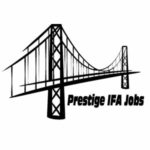 Website advisorjobs Prestige IFA Jobs
Job description
An exciting opportunity has become available for an experienced UK financial advisor to make the move abroad. On target earnings in excess of £200k, as evidenced by existing advisors.
The business is looking to grow their Diploma Qualified Financial Advisor | Independent Financial Advisor team in Spain, offering Financial Planning and Wealth Management services to clients around the world.
The role as a Financial Advisor is an exceptional offering and includes the following: existing client bank provided, access to ongoing leads, lead generation support, back-office support including paraplanning and admin support.
The role
The business is looking for Diploma Level 4 Qualified Financial Advisor, Independent Financial Advisor, with minimum 2 years' experience.
Commission base role
Existing client bank provided
Access to new leads and clients
Conduct fact find meetings with new and existing clients
Prepare sound financial plans to ensure clients meet their financial goals
Advise clients on current financial issues and make recommendations
Build strong relationships to retain existing clients
Generate new business and build introducer relationships
Manage your own diary
Market leading IT system
What you'll need to succeed:
Diploma Level 4 Qualified UK Financial Advisor
2 years minimum experience as a Financial Advisor
Experience of advising clients on Investments and Pensions
Proven track record of success and achievements
Experience of managing client relationships
Able to manage and retain a client book
Able to further grow a client book
Hungry, driven and motivated individual – wanting to earn minimum £200,000
Unique selling points:
For selected individuals, the company will provide flights, accommodation, leads and a coordinator.
Please note: This position would typically suit experienced UK investment advisory candidates as most of the consumers served by my client are typical EU and UK expatriates. A minimum of 2 years experience working in the wealth management business is a requirement. This position is NOT for someone from the accounting / auditing or financial management profession. This is a client facing, sales and targets driven profession. Please only apply if you have the required investment advisory sales experience.