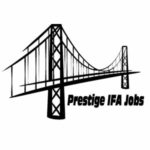 Website advisorjobs Prestige IFA Jobs
Our client in Dubai is an experienced international IFA company properly licensed for doing business Qatar, the EU and now also Dubai.
The company has a reputable and established business and they are now looking for experienced financial advisers for their offices opening in January 2021.
REQUIREMENTS :
This position would ideally suit experienced UK financial advisors, or those with experience advising UK / EU expatriates
Proven working experience as a Financial adviser
Excellent in communication and client-relationship skills
Develop, lead and manage the sales organization to advise on financial products and solutions.
Provide the vision, inspiration and leadership necessary to drive commercial success
Organizational and will have time management skills
Will have the capability to build rapport with people from multiple nationalities, jobs and industries
Will have the capacity to adapt to a fast-paced environment
Focused approach to build business
RESPONSIBILITIES:
Provide strategic advice across a variety of financial products and services
Assess client's overall financial picture, understand their needs and develop a solid financial plan
Guide clients towards a profitable and secure financial decision
Keep abreast of new industry's trends and research market to back up financial consulting=
Oversee the course of the financial plan and update it, if necessary, to ensure profits
Comply with all industry rules and regulations
ADVISER PACKAGE:
Competitive Commission Structure
Incentive on Transferal of Existing Assets Under Management
Potential 3 month Retainer / Financial Support – (Structure Varies Region-to-Region)
QUALIFICATIONS:
Any successful candidate will need to have achieved ( financial qualifications relevant to the jurisdiction they work in, ideally level 4 qualifications or Diploma equivalent to comply with our UK industry benchmark.
Please note: This position would typically suit experienced and CISI / CII qualified UK investment advisory candidates as most of the consumers served by my client are typical EU and UK expatriates.  This position is NOT for someone from the accounting / auditing or financial management profession. This is a client facing, sales and targets driven profession.
Sponsored by: https://www.onpassive.fun