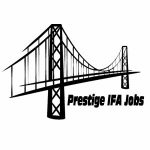 Website advisorjobs Prestige IFA Jobs
Always one step ahead of the rest...
As a leading organisation in their  sector with offices based across the globe, my client have developed a unique advice proposition which has led to a significant increase in client demand.
As a Financial Planner in the Europe team, you will work primarily in an online video conferencing capacity with clients across a number of regions outside of the company network of offices. This excludes the UK, Switzerland, UAE and USA, but is open to Europe, parts of the Middle East, Asia, Africa and South America. Team is growing out of London and Switzerland with planned office presence in many key expat hubs in Europe moving forwards. The team will work with clients remotely with the assistance of literature, digital tools and subscriptions, private meeting rooms and a laptop provided from the company.
Consumers will have typically made contact with  via my client's inbound marketing strategies or colder outreach using tools such as LinkedIn and email. Advice in this team will primarily focus on lump sum investing and portfolio management, retirement planning and regular savings.
The successful candidates will be working closely with their respective marketing, business development and paraplanner teams who will assist them with the generation of day to day client meetings, alongside the overall growth of their client books.
Our client will provide full support through the CII/CISI/LIBF examination process to complete the UK Level 4 Diploma and progress towards Chartered status.
Desired Skills and Experience:
A proven track record of success within an Advisory / Relationship Management capacity, within a financial services organisation such as a bank, brokerage or IFA.
A pro-active and entrepreneurial attitude that has led the generation of new business, whilst effectively maintaining client relationships in an efficient, holistic fashion.
You Will Benefit From:
Options for an ongoing retainer salary package. • 50% – 60% revenue share from new business generated • 50% of service fee paid to Financial Planners on all assets under management
At Financial Planner level, the average earnings across the business were £150K. Top performer £600K
Company Support:
Top class training on the international advice industry, product providers and advice process
Dedicated business development support, with a 20% pay away on each case submitted by the BDM team
Administration support provided in-house
Industry exam costs covered by the company e.g. CISI, CII, LIBF
Company incentives for top performers
Please note: This position would typically suit experienced and qualified IFA candidates. This position is NOT for someone from the accounting / auditing or financial management profession. This is a client facing, sales and targets driven profession. Please only apply if you have the required financial services sales experience.
Sponsored by: https://www.onpassive.fun